The Board of Directors
The Brule River Sportsmen's Club, Inc is a 501 c 3 non-profit registered in the state of Wisconsin. We have a membership that elects a governing Board of Directors. Membership is open to all, and we welcome your participation at all levels.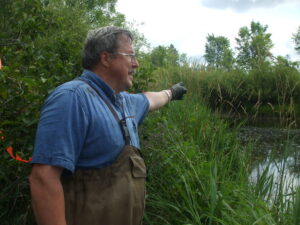 Dennis Pratt – President.  I am a retired Wisconsin Department of Natural Resources fisheries biologist. My career lasted 37 years with the last 27 years managing the Bois Brule fisheries along with the other Wisconsin tributaries to Lake Superior. My first introduction to the Brule was during a Washburn High School canoe trip in the late 1960s. I initially became a member of the club the month after retirement from DNR in 2011 and have since served on the habitat committee, as Vice President and for the last 4 years as President. My goal is to continue protecting and enhancing the Brule fisheries and its environs as long as I'm able. Beside fishing the Brule, my most recent passions include investigating the river's fishery history, videoing spawning trout and salmon underwater, and passing along some of what I've learned about the river in the past quarter century.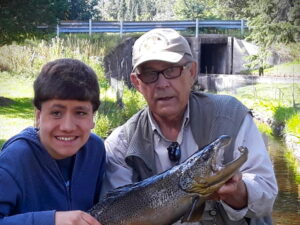 Ken Lundberg – Vice President.  My career was spent in higher education teaching Chemistry and as an administrator. After retirement, my wife and I moved back to Wisconsin and replaced our seasonal lake cabin with a year-round home. The Brule River has always been an important part of our family activities. My first memories of the Brule were fishing with my dad for brook trout, attempting to catch steelhead, and learning to canoe in our Lucius Canoe. I joined the BRSC because it was important to help protect and improve the river that has been such a wonderful part of my life. I have been a member for more than 30 years, serving as a board member, president and vice president. My priorities are habitat improvement and teaching friends and youth to fish and enjoy the river. Some of my best memories come from being on the river with my children and now my grandchildren.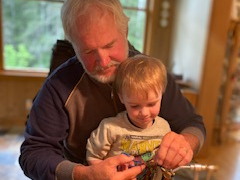 Dean Wellman – Financial Secretary.  I retired from the UPS after 33 years, with 28 years in management. I am a Superior WI native and was fortunate to have had legendary fishermen such as Ron Pearson and Rob Miller as teachers. My father bought property along the Brule in what we call the "woods" in 1960 when I was 8 years old. I started tying flies a few years later, which is my passion.  I joined the Brule River Sportsmen's Club sometime in the mid-1970s. Habitat has always been my focus. It is critical to all fisheries. Sustaining a wild trout fishery is the most important belief I have. Second most important is to share this river with others.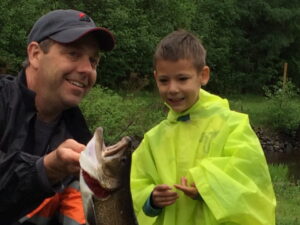 Jeff Stollenwerk – Treasurer.  I am the Director of Government and Environmental Affairs at the Duluth Seaway Port Authority where I am responsible for environmentally sustainable economic growth in the region served by the Port of Duluth-Superior. I have 30 years of professional experience implementing the federal Clean Water Act with a focus on the Great Lakes. I was first introduced to the Brule River during a fishing seminar conducted by Dr. Ken Lundberg at Bemidji State University in the late-1980s. A college friend from Duluth invited me on a Brule fishing trip to show me the ropes. Like many steelheaders, my early successes were limited but I was quickly obsessed with the amazing river and the unique cast of characters that inhabit its banks. I have served the Brule River Sportsmen's Club on its Board of Directors as Recording Secretary for a few years and currently as the Treasurer for the past 2 years. I look forward to continuing support of the Club's work to preserve and improve the Brule!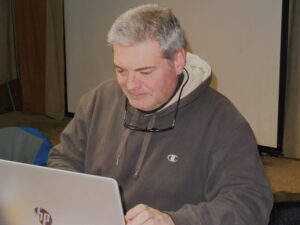 Walt Swanson – Secretary.  I'm an information security professional who has held positions from entry-level technology to executive leadership. I grew up in Brule, and spent most of my childhood working on river cabins, most notably at the Cedar Island Estate. In adulthood, I returned every few weekends to help relatives as needed with tasks at these locations, which included working at the private Fish Hatchery. Throughout my life I have spent countless hours fishing and canoeing the Brule. I joined the Brule River Sportsmen's Club on its Board of Directors as the Recording Secretary in 2016 and I bring the knowledge of what technology can do to help communicate to members. I believe the habitat work the club does is very important to the river and needs to continue.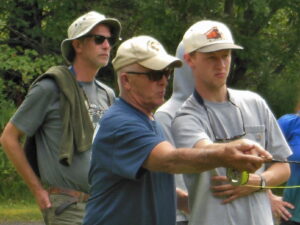 Ed Chaplinski – Board of Directors.  I am a retired dairy farmer from Gilman, Wisconsin where I've also been a volunteer fireman for 37 years. My wife Mary and I have 5 children and 13 grandchildren. We've been employing conservation measures on our farm for many years and were presented the Wisconsin State Conservation Farmer of the Year award in 2003. We hosted the Farm Conservation Day in 2004. We donated the use of 25 acres to the Gilman School Ecology Class where students learn about various aspects of ecology and different land conservation practices. My father brought me to the Brule to go fishing 60 years ago.  Now that role is reversed, and I'm bringing my children and grandchildren! I occasionally teach fly fishing at the Gilman School with the help of some of my grandchildren. I am a member of the Brule River Sportsmen's Club and have been on the Board of Directors since 2019.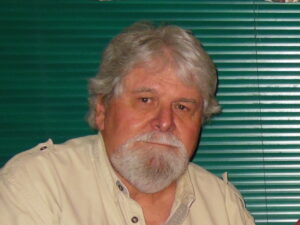 Paul Helbach – Board of Directors.  I consider living in the Brule River Valley as the closest I'll get to Heaven while here on earth. I've been married to my wife, Anita, for 52 years and we have 2 adult sons and 4 grandchildren. All are trout fishermen! I'm a Vietnam War veteran who retired after 30 years with the DVA as a trauma therapist doing critical incident stress debriefing, focusing on war trauma, earthquakes, plane crashes, etc. In addition to the Club, I'm a member of Trout Unlimited, Brule River Lions Club, and The American Legion. I've been a Club board member since 2013. I previously chaired the Club's college scholarship committee and established the Club's local high school scholarship for students pursuing an environmental focus, which is partially funded by the sale of "Brule River Shillelaghs" that I fashion from material gathered from local logging sites. I currently chair the high school scholarship committee and have been a board member since 2013.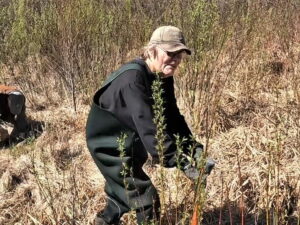 Glen Hill – Candidate for Board of Directors.  I've basically lived in Maple, WI all my life. As a youngster, my cousins and I rode our bikes to fish the Brule. My enthusiasm was there, but my skill was lacking! I finally caught a steelhead on a spawn bag when I was 19. After that, spawn was hard to get and fish were few and far between. I noticed others were catching fish on yarn, and I finally caught two one day on yarn. I've never looked back since.  Anyway, after many years of enjoying the Brule and talking to BRSC board member Courtney Johnson, I thought that joining the Club and doing what I could to help improve the river was a good way to pay the river back.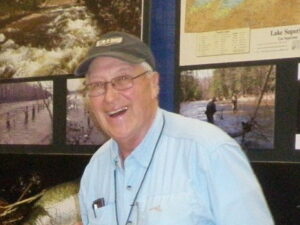 Courtney M. Johnson – Board of Directors.  I was born and raised at Lake Nebagamon, Wisconsin. My wife and I have been married 58 years, and we live in Poplar, Wisconsin. We raised 3 daughters and now have 12 grandkids and 14 great grandkids. Professionally, I retired from Minnesota Power after 29 years where I last worked as a system engineer. I served in the Wisconsin National Guard for 24 years. I was activated for the Berlin Crisis in 1961 and last served in the 477th Medical Company in Duluth. Since retiring from Minnesota Power, I've been trapping beavers at least once a week! I fish the Brule quite often and bring grandkids along as much as I can. I've been a Club member for many years and chaired the habitat committee in the past. I've served on the board since 1988.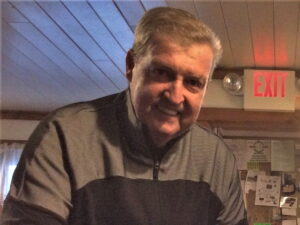 Mick Killoran – Board of Directors.  I was born and raised in downtown Brule. The river was my playground for fishing and swimming because we had no running water. I loved it! According to my father who worked at a Civilian Conservation Corps camp and guided on the Brule for fifty plus years, he had me in the front of "Old Bourbon" our canoe when I was two years old. I think he brought me along for balance! I moved to Eau Claire after a trip overseas and taught health and life science, coached football, basketball, and some baseball at different levels. After retiring, I moved back to Brule where I always had a place to hang my hat. I married Flo Berube, another long-time Brule resident, who also loves the river! We have many stories to tell. Hers are true. Mick is Irish!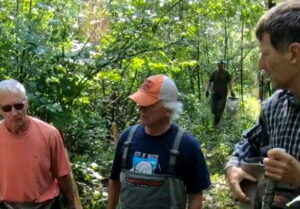 Mike Sierszen – Board of Directors.  I retired from the U.S. Environmental Protection Agency In 2018, having spent 27 years at the Duluth lab as a Research Ecologist. I investigated ecological effects of human disturbance on aquatic systems, especially focusing on the food webs of the Great Lakes and their coastal habitats. In 2018, I also joined the Board of the Sportsmen's Club and I am the Chair of the BRSC College Scholarship Committee. I believe the Club has a strong positive effect on the quality of the Brule River; I'm especially excited about improving river habitat through our Habitat projects and guarding the river's future by fostering environmental professionals through our Scholarship programs. I can be found somewhere along the Brule most times of the year.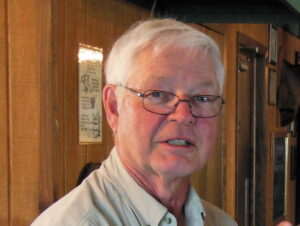 Dennis Smet – Board of Directors.  Brule has been my home since 1973. My wife, Mary, and I raised Angus beef cattle on her family farm while I taught science at Superior Central. About 30 years ago, my good friends, Larry and Marge Drews, urged me to join the Sportsmen's Club. Since joining, I have organized or been involved with the Club's annual spring clean-up, the scholarship committee, the aquarium project (annually for 21 years now), and the Challenge Center canoe trip which was organized with Ron Pearson. I've been a board member since 1990. The Brule River is a very unique and beautiful place. Hopefully, we will leave it in better condition after we are gone. Brule has been a great place to raise a family.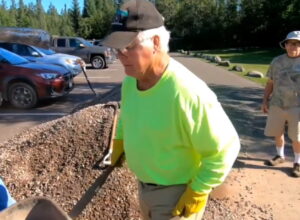 Jim Waletzko – Board of Directors.  I first fished the Brule River in the late 1950s with my Dad and uncles. Going to the river during my high school and college years (1960-1969) was always a great interest. I bought a canoe in 1967, so fishing the upper Brule River became a reality. My interest in river biology only increased after completing a University of Wisconsin – Superior degree with a major in biology and a minor in chemistry. I taught high school biology and chemistry throughout a 32- year career. After testifying against "tubing on the Brule River" at a legislative hearing in Brule I was invited to join the Brule River Sportsman's Club. River ecology and trout habitat improvements have been an interest of mine for decades. Trout populations in the Brule are being monitored and regulated well by the Wisconsin DNR and the Brule River Sportsman's Club remains supportive of their efforts. I enjoy taking an active interest in this BRSC effort.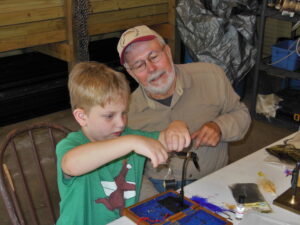 Mike Zicus – Board of Directors.  I grew up fishing wild brook trout in small Connecticut streams with a fly rod my Dad gave me when I was 6 years old. I relied on "garden hackle" back then and remember those days fondly. Stream trout have always been a passion of mine because of the special places where they're found. A graduate school classmate and his Dad introduced me to the Brule in 1970, and it has been an important part of my life ever since. Professionally, I was a waterfowl research biologist with the Minnesota Department of Natural Resources for 30 years and worked extensively with cavity nesting ducks. I have been a Club member for about 20 years and a board member since 2009. I inherited the responsibilities for the Club's website in 2010 and have developed content for and maintained the website since then. I am an advocate for landscape-level and in-stream habitat protection and management. I enjoy introducing younger people to the river and its fishing opportunities with the hope that they'll appreciate the Brule River Valley for all it is and that they'll become the future advocates the river deserves.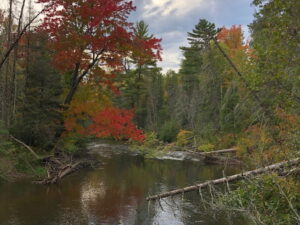 Ken Zivic – Board of Directors.  I am a retired Information Technology Executive who's lived in Pennsylvania, Wisconsin, Colorado and Illinois. Born in Pennsylvania, I grew up knowing only trout fishing in western Pennsylvania streams, a love that I now maintain on the Brule and surrounding Lake Superior tributaries. In 1981, I started exploring northwestern Wisconsin with my love for the outdoors, wildlife, conservation and desire to relax in the Northwoods. I fell in love with the area and continued to expand my interests through outdoor activities. As a result, my wife Terri and I decided to purchase land and build our retirement home in Port Wing, a great location for all types of outdoor activities including the Brule River. We moved to our place in July of 2019 and believe that we will remain here for as long as we have the ability to do so. My intention is to be involved with the surrounding communities and causes so that I can help protect the future of the culture and environment in this part of the country.