Habitat at Work
Sufficient suitable spawning habitat that can be accessed by salmonids is fundamental to maintaining the Brule's productive self-sustaining fishery. The importance of years of watershed protection by the State of Wisconsin, Douglas County, and many private landowners cannot be overstated. Nonetheless, early logging, road development, and the actions of rebounding beaver populations have had a cumulative negative effect on parts of the Brule and its tributaries. In-stream habitat work by the Wisconsin Department of Natural Resources with the help of Club members, along with donations by local businesses, the Wisconsin National Guard, and the work of Animal and Plant Health Inspection Service beaver trappers (click on APHIS to learn more), has been important to restoring many of the affected stream reaches to a more productive state (click on Little Streams to read more). We hope you enjoy the following videos of fish doing "their thing" that were produced by Club member Dennis Pratt! All video was collected on the Bois Brule River, a Wisconsin stream flowing into Lake Superior.
2018 Habitat Project
First of 2 Saturday volunteer trout habitat improvement projects was a huge success! Twenty volunteers split into 2 groups to restore two trout spawning habitat areas originally built by the club and the DNR more than 20 years ago. This year's Brule River Sportsmen's Club Volunteer Trout Habitat Improvement projects were scheduled for the mornings of August 18th and 25th at Stone's Bridge Canoe Landing where County Hwy S crosses the river. The project involved moving the spawning gravels placed by the club and the DNR in the 1990s back upstream to where it was originally located (spawning trout move the gravel downstream slightly each time they build a nest). Volunteers met at 9AM with waders and gloves and worked until about noon. A 'Sloppy Joe lunch' was provided by the club at noon back at the landing. The club has been doing these volunteer trout habitat projects on Wisconsin's Bois Brule River since the late 1970s. It's great fun! Video provided by Seaquest Photography of Duluth, Minnesota.
Click on 2018 habitat project to see the video below.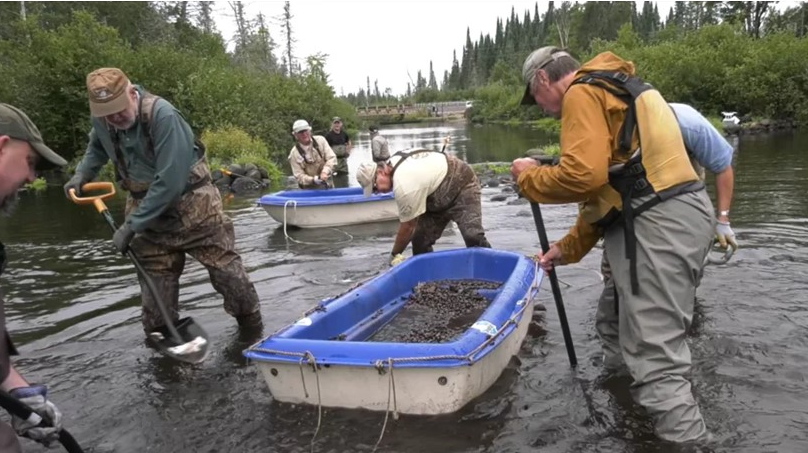 Brook Trout Spawning Habitat Improvement - Two Decades Later
More than 20 years ago, the Brule River Sportsmen's Club and the Wisconsin Department of Natural Resources teamed up to restore some brook trout spawning habitat in the head water of the Brule River.  Spawning habitat at this location was severely degraded by beaver activity and stream-side logging at the turn of the 20th century.  In 1994, a test project was designed and built to see if we could help the brook trout population by confining the channel and adding washed uncrushed spawning size gravel (1/4 to 1/2 inch).  The channel was confined by building banks of hand carried trap rock.  When completed, gravel was also hand carried to the site from the nearby roadside.  That fall, many brook trout successfully reproduced on the site at the end of October.  It was so successful that the club came back in 1996 and built 2 more spawning sites a short distance downstream of the initial site. Brook trout have successfully reproduced on the project habitat improvements each and every year since.  This video documents the project's history and success with all video collected at the habitat improvement site.  This work should continue producing similar results for many decades to come as long as problem beaver continue to be removed.
Click on Hwy P habitat work to see the video below.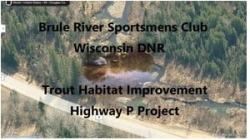 1999 Habitat Project
The Brule River Sportsmen's Club has a near four decade record of accomplishing annual volunteer trout habitat projects in conjunction with the Wisconsin Department of Natural Resources Lake Superior Basin Fisheries Staff. Here is an example of one seasons project accomplished nearly twenty years ago where washed sized stones (1/4 to 1/2 inch) were added to a known Brook Trout (Brook Char) spawning area to enhance reproductive potential. This project was deemed succesful in both the initial spawning season post placement of the gravel and continues to aid in annually producing the substantially improved fishery we enjoy today on Wisconsin's Bois Brule River. The project involved volunteers from a number of local environmental organizations including Brule River Preservation, Douglas County Fish and Game, Trout Unlimited, Lake Superior Steelhead Association and others. Each of the two Saturdays between fifty and sixty people volunteered their Saturday mornings to complete the project.
Click on 1999 habitat project to see the video below.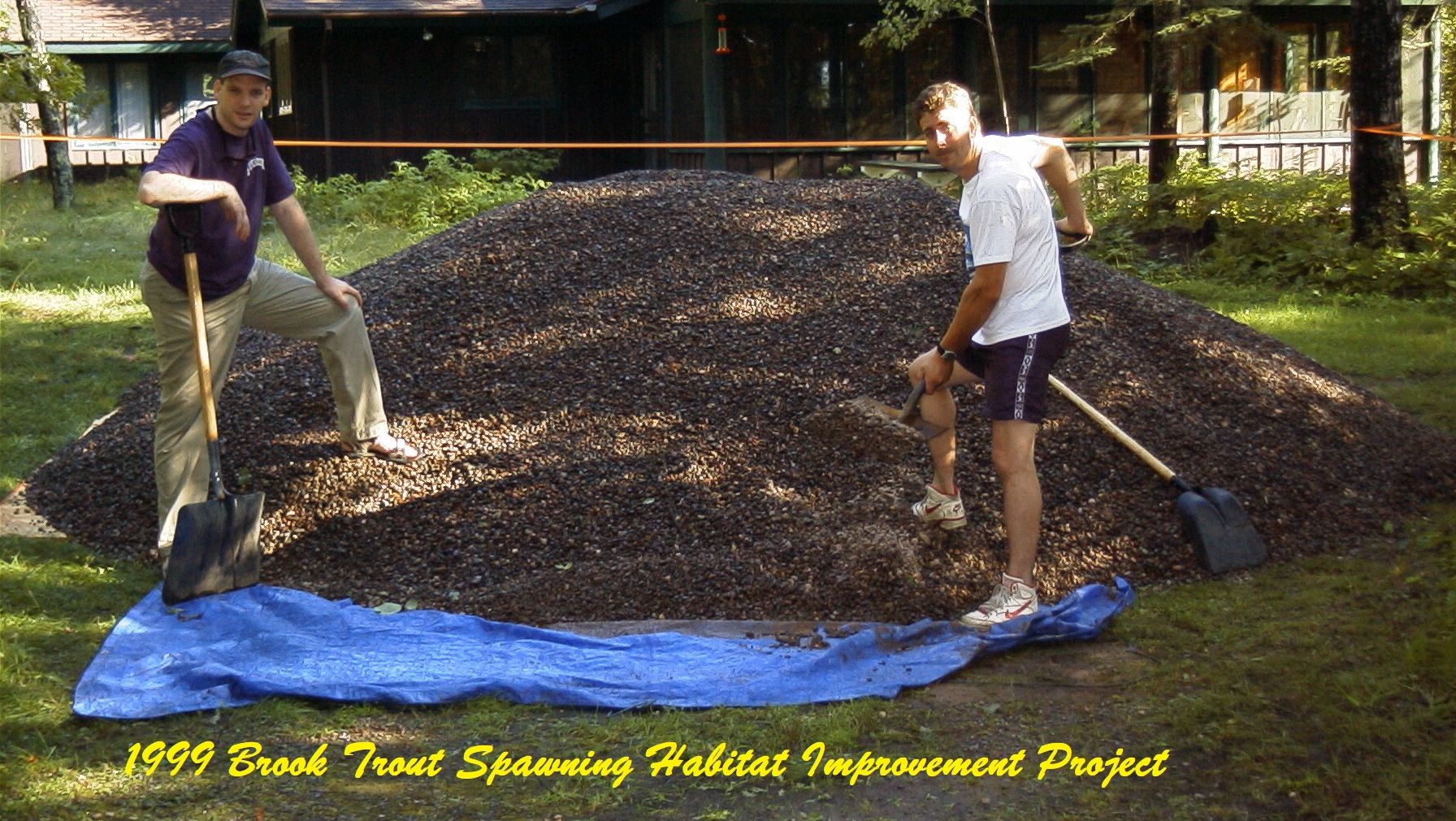 Spawning Brook Trout
This video shows a female brook trout preparing her redd (spawning bed) by first testing the depth of the potential egg pocket by probing with her anal fin (bottom fin in front of the tail) and the width of the egg pocket by rocking her anal fin side to side. Toward the end of clip she tries to improve the egg pocket by swiftly turning on her side and sweeping. She will not lay any eggs until she is satisfied and can be seen doing this for quite some time. Also note that a dominant male, her chosen mate, is constantly protecting her and her redd from other male intrusions, chasing, displaying, pushing, and sometimes biting them.
Click on spawning brook trout to see the video below.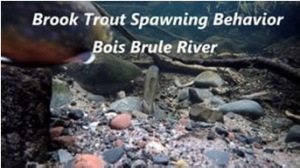 Schooling Brook Trout
The brook trout school you see in the first half of this video are very light colored as they have camouflaged themselves to match the color of the sand bottom they are lying over. Brook trout can be found in congregations for various reasons including taking advantage of food flushing from upstream after rainfall events (as in the two schools shown), seeking cold water refuge during warm summer periods, seeking refuge near groundwater sources during the cold winter months, or when they congregate in spawning areas. Brook trout in the video range from 6 to 14 inches.
Click on schooling brook trout to see the video below.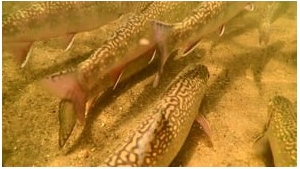 Spawning Brown Trout
This video shows a pair of lake-run brown trout just after they completed their last egg laying event. You will see the male at the beginning trying to urge the female to lay eggs but she ignores him and just continues the process of excavating gravel to cover her eggs.
Click on spawning brown trout to see the video below.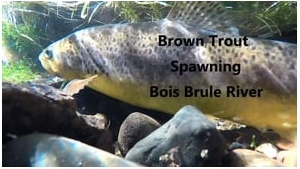 Spawning Coho Salmon
Video of a pair of Coho salmon spawning in the Bois Brule River, a Lake Superior tributary, in Northern Wisconsin. Video collected in late October of 2015.
Click on spawning cohos to see the video below.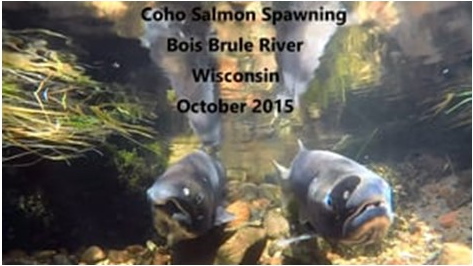 Spawning Steelhead
Video displays steelhead (lake-run rainbow trout) spawning behavior on the Bois Brule River, Wisconsin's most important coldwater tributary flowing into Lake Superior. All the underwater video was taken on the site of a Wisconsin Department of Natural Resources spawning habitat improvement project built in 1998. Since construction, this spawning area has been used by brown trout and coho salmon each fall and by steelhead each spring. The spawning habitat improvement project consisted of adding rock channel constrictors, large woody cover logs and washed, sized spawning gravels.  Click on Habitat Project Table to see project maps, descriptions, and photos of many of the joint Brule River Sportsmen's Club – Wisconsin DNR Fisheries.
Click on spawning steelhead to see the video below.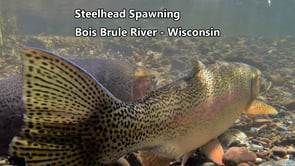 To help support the Club's habitat restoration and maintenance work, please consider joining the Club if you are not already a member!
Click on Join the Club if you'd like to join.  Thanks!