Hex Para Drake
John Fehnel, Great Lakes Fly Shop, – Duluth, MN
This is an extended body, bullet-style mayfly imitating the largest mayfly that hatches on the Brule River. The body is approximately 1 ¼ to 1 ½ inches not including the tails, which are about as long as the body. The hatch usually occurs in the evening the last week of June through the first week of July. Their lifespan is about 24 to 48 hours once they hatch.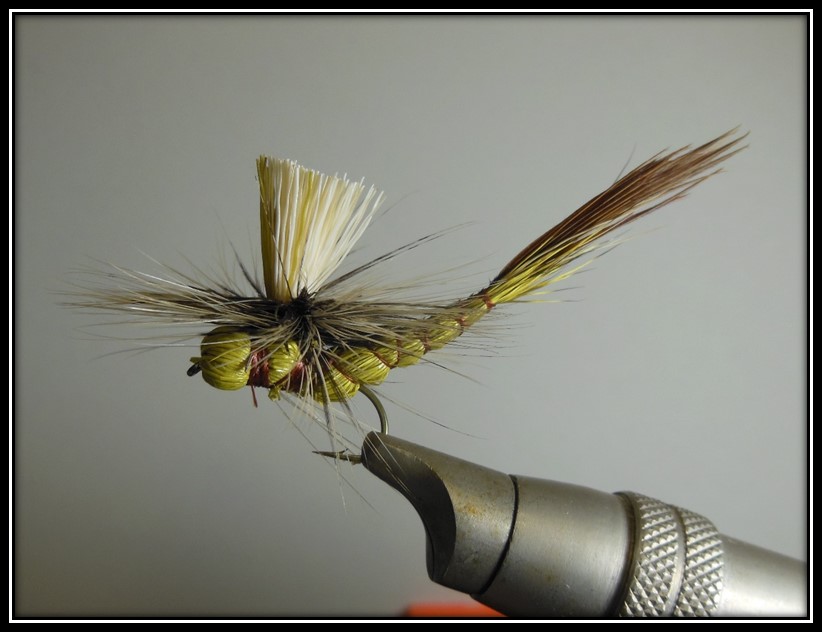 Recipe
Hook: Daiichi 1170 #8 standard dry fly or similar type.
Thread: Dark Brown Danville 210.
Tail: Tie several fibers of long pheasant tail. Keep them extra-long as they will extend past the body.
Wing: Tie in light elk hair wing post.
Tie forward deer hair (light cream or light olive) for bullet head and extended body.
Reposition thread just forward of the wing post. Grasp deer hair, pull rearward, and wrap thread making extended body. Bring thread back to wing post.
Tie in cream or light dun hackle parachute style to finish fly.
If you have a favorite that you'd like to share, contact Dean at pwellman@cheqnet.net or send us a message by clicking on Contact Us.
Click on Brule Fly Patterns to see all of this year's patterns.