The South Shore Railroad abandoned its operations in the late 1800's or early 1900's. After operation ceased, maintenance of their grades also ended. Over time, the grade crossing Nebagamon Creek has become a problem. Concern about this grade first surfaced more than 25 years ago. The Club is working with the Wisconsin DNR and Brule River Preservation to find a solution to this longstanding issue. For a history, description of the potential problems, and information about the grade, click on South Shore Grade. To track the progress on this issue, keep reading.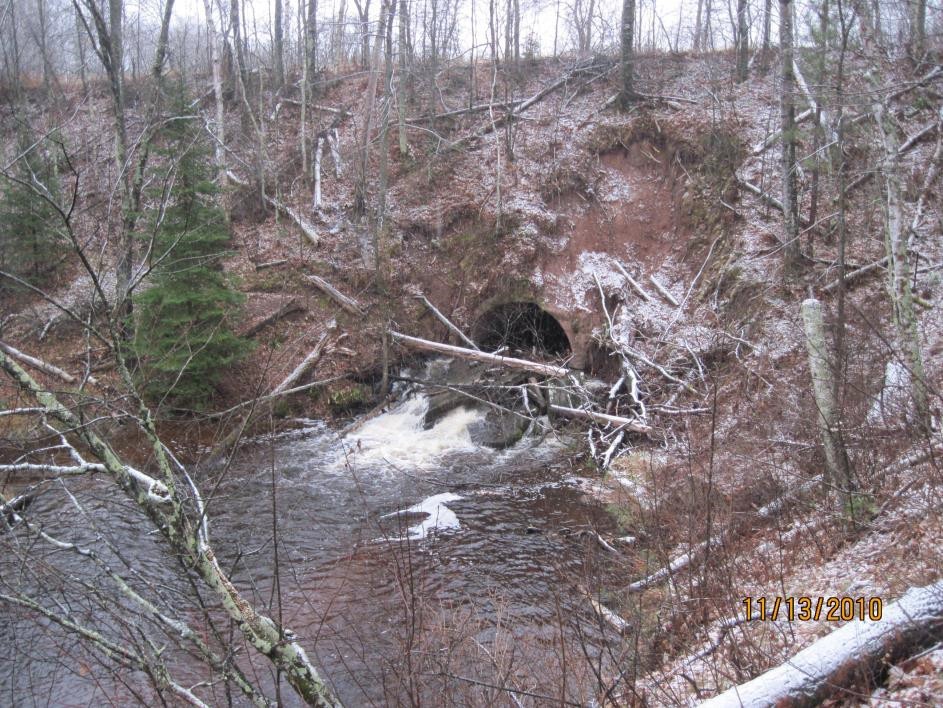 Wing-wall collapse at downstream side of culvert (Also note erosion of grade).
October 1, 2017 Update
We've met with Paul Piszczek – WDNR Senior Fisheries Biologist and Jane Anklam  from West Wisconsin Land Trust (click on Land Trust to learn about the Trust). Plans are coming together to make this a 2018 project. Approximately, 1/3 of the funding is in place. Will be looking for additional funding and in-kind support. An engineer's report of exactly what is required for this project is the next step.  Letters of support have been received from area organizations.
September 1, 2017 Update
The Wisconsin Department of Natural Resources grant proposal submitted to the U.S. Environmental Protection Agency for funding to remove the grade in 2018 has failed.
June 26, 2017 Update
The Brule town board passed a resolution in February supporting removal of the grade. Wisconsin DNR has submitted a proposal to U.S Environmental Protection Agency for funding to address the problem. They have also met with the U.S. Fish and Wildlife Service whose staff also recognize the problems at the South Shore Grade crossing. U.S. Fish and Wildlife Service support will be determined by the cost of the project and where it ranks in comparison with other culvert replacement projects on Lake Superior tributaries. The Brule town board supervisor and the Wisconsin DNR met on-site in April to discuss the possible removal of the collapsed wing-walls to buy time. While the creek is being impounded and there is no upstream fish passage through the culvert, water is still flowing through the culvert and this site has withstood several recent floods. The conclusion reached was that removing the concrete slabs before the embankment of the grade is gone could result in more erosion at the base of the grade than what is currently occurring, thus releasing sand from the embankment at an accelerated rate. Work will continue towards having an organized project ready for 2018.