The South Shore Railroad abandoned its operations in the late 1800's or early 1900's. After operation ceased, maintenance of their grades also ended. Over time, the grade crossing Nebagamon Creek has become a problem. Concern about this grade first surfaced more than 25 years ago. The Club is working with the Wisconsin DNR and Brule River Preservation to find a solution to this longstanding issue. For a history, description of the potential problems, and information about the grade, click on South Shore Grade. To track the progress on this issue, keep reading.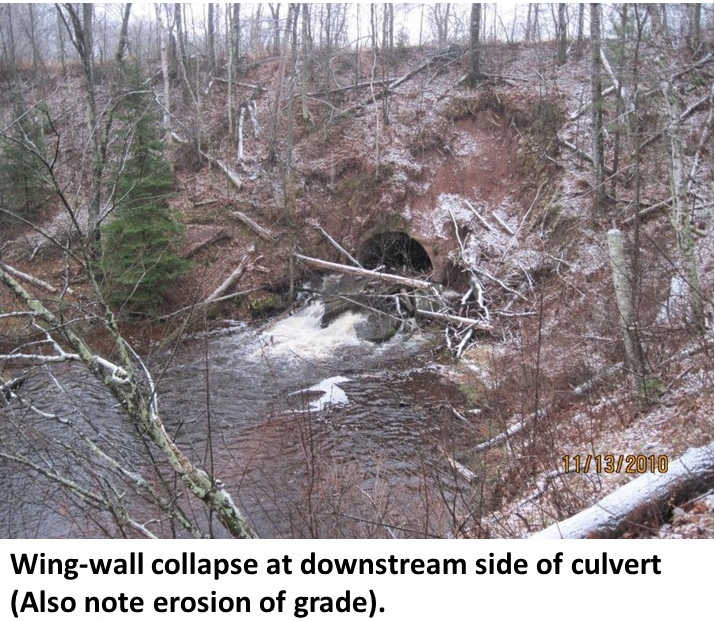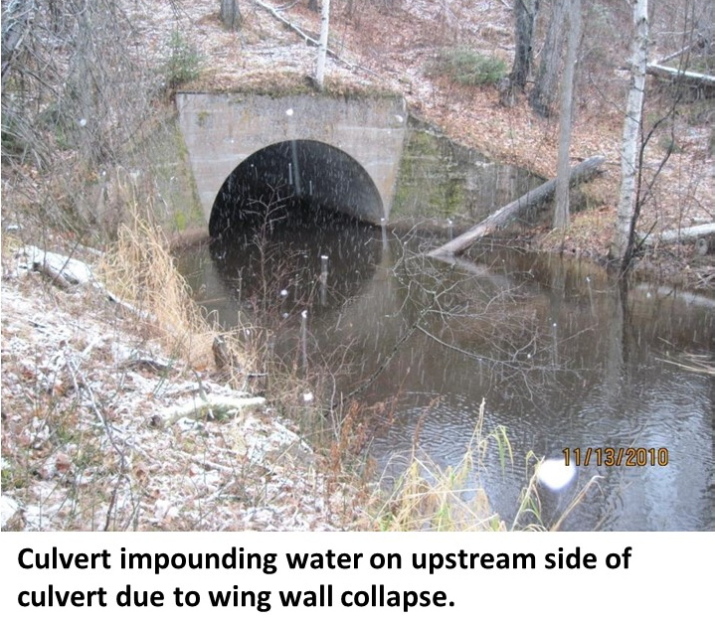 June 23rd, 2018 Update
We dodged a bullet when 11.5 inches of rain was reported for the Lake Nebagamon area between June 15th and June 17th and the grade held! A very similar setup took out a culvert/high grade fill on North Fish Creek in Bayfield County during the storms. Unbelievable what the stream looks like of that now! The downstream damage on North Fish Creek is shocking.
Fundraising has been overwhelmingly successful although there is still no word on the Federal grant requested by the DNR, so we continue our fundraising efforts. This ongoing fundraising effort is a testament to how important the Brule is to so many people.
As of June 23rd, pledges and donations have been received from:
Brule Preservation Inc.,
Izaak Walton League Duluth Chapter,
Wisconsin Izaak Walton League Trust Committee,
Douglas County Fish & Game League,
Lake Superior Steelhead Association,
Western Lake Superior Trolling Association,
Wild Rivers Chapter of Trout Unlimited,
Wisconsin State Council of Trout Unlimited – Executive Committee,
Elliot Donnelley Chapter of Trout Unlimited – Chicago,
Arrowhead Fly Fishers Club,
Fox Valley Chapter Trout Unlimited,
Patagonia Environmental Grants,
Brule River Rats Stewardship Council, and
about 100 members of the Brule River Sportsmen's Club.
These pledges and donations amount to $58,251. The Wisconsin DNR has also committed $45,000 in state trout stamp funds for a non-governmental donations and state funds total of $103,251. In addition, the DNR has applied for a federal grant of $38,000. At this point, we have the needed funds provided the federal grant is awarded to the DNR. Several other groups and individuals have pledged an additional $6,000 if the Federal grant is not received. If we do not receive the grant, an additional $20,749 will be needed. Let's keep our fingers crossed.
Brule River Preservation LLC has also paid for a title search and a survey of the site. We're still hopeful that DNR can begin the project by August 1st as the construction window on trout streams closes on September 15th.
Thanks again to everyone!
March 1, 2018 Update
The present plan is to bid the project in early 2018 and complete the project between May 15th and September 15th, 2018. A pre-formal bid cost estimate is as follows:
1. Design $5,000
2. Labor (tree, culvert, concrete removal, earth excavation) $45,000
3. Labor (earth hauling) $30,000
4. Heavy equipment rental $35,000
5. Site Supplies (erosion controls, construction fencing, boulders for stream grade control, seeding, tree planting, etc.) $5,000
6. Contingencies $10,000
Total cost $130,000